A third session I attended at ASHA leads me to a tech-tie-in on this blog and was called
Consider the Big Picture: Using Classroom Expectations to Guide Assessments and Develop Educationally Relevant Interventions
(Chinen and Ireland). A take-away from this session was that diagnostic activities such as dynamic assessment and language sample analysis are essential to supplement testing components of evaluations.
Now, I'm a HUGE narrative person, so consider that bias (if a focus on functional communication can be considered a bias). But as I was hiking through a park in LA with some friends I hadn't seen in awhile, I got meta for a moment. I thought about how much of the welcome and meaningful experience of hanging out with them again consisted of narratives. Spoiler alert: all of it.
One resource recommended by Chinen and Ireland is called SUGAR (Sampling Utterances and Grammatical Analysis Revised), and a couple of keystrokes brought me to
a brand new article from July, 2017 with updated research, language elicitation protocols and norms for ages 3-7;11
.
You all know how to read a research article, so besides a few points I will just say: PLEASE READ IT. The article would also make a great study-and-apply activity with colleagues
Pavelko and Owens' aim is to make these vital assessment processes easier for busy clinicians, and they do:
-"LSA (Language Sample Analysis) may be 'the only assessment measure that captures a speaker's typical and functional language use.'"
-A recent survey of school-based SLPs revealed that only 2/3 had used LSA in the last year and of those, about half had only done so in no more than 10 cases.
-The authors recommend using digital recording tools rather than attempting to transcribe live, which is stressful, inaccurate, and probably hampers clinicians' ability to elicit in a functional context. I like the Voice Memos app on my iPhone or
Voice Memos for iPad
. Tip: try to "rewind" as little as possible. Transcribe and get what you can. Then re-listen and edit.
-Protocol and techniques are offered for eliciting (among others):
"
Ask process questions
How did/do…
What happened…
Why did…
Use "Tell me…" or "I wonder…" statements.
Use Turnabouts
Comment + cue for child to talk
Use Narrative Elicitations
Build on what the child says or what you know.
Begin with 'Your mom says you… that sounds like fun. Tell me what happened.'
'I know that you… Tell me what happened.'
'Did you ever… Tell me what you did.'"
So, the tech tie-in. Pavelko and Owens demonstrate
simple uses of word processors
to help clinicians quickly calculate total number of words, mean length of utterance in morphemes, words per sentence and clauses per sentence, and provide normative data for all of these for ages 3-7;11. These involve using the numbering feature and word count of
MS Word;
I would also point out that the same features are available in
Apple's Pages
and
Google Docs
.
Clinicians might also benefit from the
File>Duplicate option or Make a Copy
in Google Docs when working with the sample and taking different measures, so as not to be confused by the required edits to the sample (e.g. using spaces to mark morphemes).
In Google Docs, some of the techniques suggested: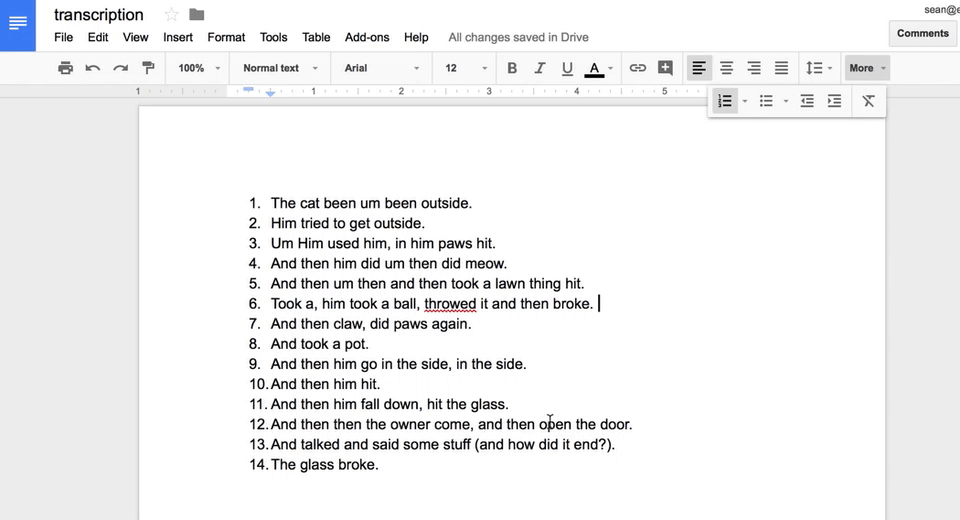 An important read. If working with older students I also recommend Hadley's
Language Sampling Protocols for Eliciting Text-Level Discourse
and Heilmann and Malone's
Rules of the Game
.